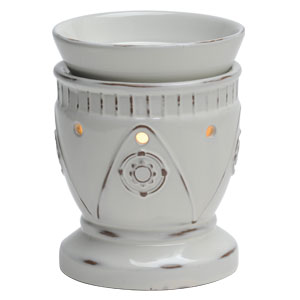 Like a weathered beach cottage, Hampton is casual and chic. Creamy white glaze is rubbed from the simple, debossed motif to expose the terracotta base for a distressed, timeworn look. It also can go with almost any decor.
My aunt gave me this for my birthday, I think she is reading my blog. I love scented candles, but complained about the kids blowing them out and messing with the melt pattern(if they don't burn long enough to even out the melt(the wax all level) then they burn down in a tunnel instead of using all the wax. It's a waste of an expensive candle.)
Along with this beautiful melter, which uses a light bulb and wax squares instead of a wick, she gave me three scent bricks. Blueberry Cheesecake...yummy what a fragrance, Autumn Sunset...autumn scents that you find with baking, Coconut Lemongrass...a fresh scent I love for everyday. You will find this beautiful melter on a shelf in my living room filling my home with wonderful smells.
I would love to try other melt pots, plug-in varieties, holiday types...etc., but currently Scensy is my favorite scented candle(wax melter) out there. I do not sell for Scentsy and neither does my aunt, she purchased this at a home party a friend was having.