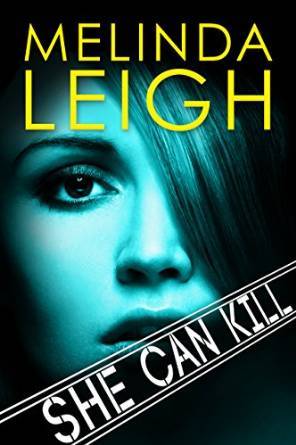 Title: She Can Kill
Author: Melinda Leigh
Stars 5 out of 5
Review:
She Can Kill brings back to Characters from She Can Tell Sarah Parker and Cristan Rojas. We finally get to find about the mysterious Cristan Rojas and boy he was worth the wait. Sarah and Cristan have so many problems the reader can only wonder how they will find any peace in their lives.
Melinda Leigh's She Can Series has created a list of characters who are not only name's of pages but so life like that you feel you have grown with them from book 1 to book 5.
Sarah has left her abusive Ex-Husband and is trying to get her life back so she can make a better life for her two little girls. When Cristan Rojas tries to protect Sarah from her Ex- Husband she finds herself falling for the mysterious man.
Cristan is also a very interesting past of as a hitman for a drug cartel family. I love that when his daughter was born his heart changed and he could no longer kill.
As Sarahs Ex comes unhinged Cristan's past comes to find him being an explosive novel of romance, pain, adventure and enough twist and turns to keeping the readers hooked until the last word on the page.
Melinda Leigh writes the perfect blend of suspense, and romance that will keep readers wanting more.
ARC from Author and Netgalley
Synopsis:
Reformed assassin Cristan Rojas just wants to raise his daughter in peace. But after twelve years on the run, he learns that even the quiet little town of Westbury, Pennsylvania, has many hidden dangers. Although he can't shake the feeling he's under surveillance, Cristan's attraction to Sarah Mitchell continues to grow, as do his concerns that his secret past could jeopardize anyone who gets too close to him.

Sarah is ready to start her life over with her children, a new job, and a budding romance. Her newfound happiness is threatened when her ex-husband becomes increasingly violent—and she soon learns her ex isn't the only person stalking her.

Cristan fears someone from his past has arrived in town, someone far worse than a jealous ex. Someone who may be responsible for a brutal—and unsolved—murder a dozen years ago. To protect Sarah and his daughter, he must shine a light into the darkest recesses of his nightmarish past.
About The Author:
Besides that I love her books!!