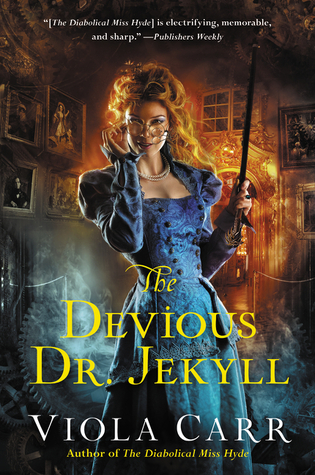 Title: The Devious Dr. Jekyll
Author: Viola Carr
Stars 4 out of 5
Review:
Steampunk novels are something new to me and at first I was a little confused until I remembered most Steampunk novels are taking place in a alternate universe. Viola Carr takes a classic novels by Robert Louis Stevenson's classic story and creates a beautiful twist with the dark moments and memorable sharp wit.
Everything from the background to the characters themselves pop off the pages until you finish the book still wanting more. The mystery was a perfect blend of everything the reader could hope for.
With all that said sometimes I needed to reread parts of the book because I would get lost at moments.
ARC sent to me from the publisher for my honest opinion.
Synopsis:
Solving the infamous Chopper case has helped crime scene physician Dr. Eliza Jekyll establish her fledgling career in the chauvinistic world of Victorian law enforcement. But the scrutiny that comes with her newfound fame is unwelcome for a woman with a diabolical secret. And there is the mercurial Royal Society agent and wolf man Remy Lafayette. Does he want to marry her, eat her, or burn her at the stake? Though Eliza is uncertain about Remy, her dark and jealous shadow self, Lizzie, wants to steal the magnetic and persistent agent, and usurp Eliza's life.

It's impossible to push Remy away when he tempts her with the one thing she can't resist: a bizarre crime. The search for a bloodthirsty ritual torturer dubbed the Pentacle Killer draws them into a terrifying world of spies, art thieves, and evil alchemy, where the price of immortality is madness?or damnation—and only Lizzie's dark ingenuity can help Eliza survive.

As Eliza and Remy race to thwart a foul conspiracy involving the sorcerous French, they must also overcome a sinister enemy who is all too close: the vengeful Lizzie, determined to dispose of Eliza for good.
Published October 27th 2015 by Harper Voyager
About The Author: