What was in your mailbox this week? And what are you reading?
Richard Selznick is a child psychologist who has helped parents with their children's struggles in school for more than 25 years. His first book, The Shut-Down Learner, identified the problems faced by spatial learners and recommended ways that parents and teachers can help them learn. School Struggles offers aid, comfort, and perspective to parents whose children have difficulty in school for a multitude of reasons. Selznick addresses reading and writing issues, task analysis, learning disabilities, behavioral problems, difficulties with organization, social skills, medication, parents' interactions with teachers, and more, in a practical, down-to-earth manner. The book is filled with takeaway points, surprising insights, and new actions to try with your child that are a godsend for families struggling with school and behavioral issues.
Through his work with thousands of academically struggling kids and their families, Dr. Selznick has developed techniques and easily applicable tools on pretty much any topic that plagues parents and children alike, including the excessive use of technology, parental indulgence of their children, and the difficulty of being patient with a frustrating situation. This is an indispensable guide for any parent who stays awake at night worrying about their child's school experience, whether the issues are academic or social, or both.
Imagine if the legendary director who invented Hollywood and the Biblical epic offered you his personal secrets to unlimited wealth and power.
Ready When You Are: Cecil B. DeMille's Ten Commandments for Success
reveals the hidden keys for winning the race, decodes the secret strategies for resolving conflicts and turning enemies into allies, and uncovers the dynamic principles to becoming a valued and admired person at work and in your personal life. Cecil B. DeMille illustrates his unique insights and interpretations of the Ten Commandments with anecdotes about his personal successes and failures along with powerful and practical applications for living life beyond your wildest dreams. Ready When You Are weaves the timeless truths of one of our greatest spiritual foundations into a detailed road map for successful living today. When acclaimed director Steven Spielberg fell in love with movies after watching Cecil B. DeMille's Academy Award-winning film, The Greatest Show on Earth. Spielberg credited DeMille for teaching him how to put a lot of money on the big screen and then make the studios pay for it. In this powerful book, comparable to such classics as
7 Habits of Highly Effective People
,
The Purpose Driven Life
, and
The Secret
, visionary filmmaker Cecil B. DeMille reveals his breakthrough strategies to achieve a life of financial success and personal fulfillment.
The leaves are falling and there's a chill in the air in Willow Ridge, Missouri, the quaint, quiet Amish town where love, loyalty, and faith in the Old Ways are about to be put to the test ...
Autumn Winds
Winds of change are blowing through Willow Ridge, and they're bringing a stranger to the Sweet Seasons Bakery. At first, widowed Miriam Lantz has misgivings about Ben Hooley, a handsome but rootless traveling blacksmith. But as she gets to know the kind-hearted newcomer, she wonders if his arrival was providential. Perhaps she could find love again—if only there weren't so many obstacles in the way. With Bishop Knepp relentlessly pursuing her hand in marriage and the fate of her beloved café at stake, Miriam must listen to God and her heart to find the happiness she longs for and the love she deserves.
Award-winning travel writer and actor Andrew McCarthy delivers a revealing and insightful memoir about how travel helped him become the man he wanted to be, helping him overcome life-long fears and confront his resistance to commitment.
From time immemorial, travel has been a pursuit of passion—from adventurers of old seeking gold or new lands, to today's spiritual and pleasure seekers who follow in the footsteps of Elizabeth Gilbert. Some see travel as a form of light-hearted escapism while others believe it has the power to open your mind, forcing you to confront your demons, and discover your true self. Andrew McCarthy belongs to this second category of traveler.
The Longest Way Home
follows his excursions to Patagonia, the Amazon, Costa Rica, Baltimore, Vienna, Kilimanjaro, Dublin, and beyond. He uses his wanderlust to examine his motives and desires, and explore his ambivalence about commitment. He ponders his personal life, his acting career, and his impulse to leave home, all building toward one of the most significant moments of his life: his wedding day. Genuine and spirited, McCarthy's message about the transformative power of travel is universal, and his exploration of the nature and passion of relationships, both fleeting and enduring, will strike a chord with every man and woman who has ever wondered at the vicissitudes of the human heart.
Another spring reminds the Amish of Cedar Creek, Missouri, that for everything there is a season.
Zanna Lambright is finally marrying Jonny Ropp, and friends and family have come from far and wide to celebrate. Among them is young widow Rosemary Yutzy, mother of toddler Katie, whose husband was tragically killed last fall. With a willing heart Rosemary has taken over care of her in-law's family and continued to run a baked goods business from home, but privately she still mourns her lost Joe...and is unprepared for the changes that are coming...
Rosemary's father-in-law wants to merge his lamb-raising business with Matt Lambright's—a move that will require the Yutzys to relocate from their nearby town to Cedar Creek. Moreover, it will bring Rosemary into constant contact with Matt, who is making no secret of his romantic interest in her. The challenges of contemplating a future unlike any she expected are overwhelming for Rosemary. And although Matt is strong and kind, his courtship is so persistent, she often wants to run the other way. As Rosemary struggles to see beyond her immediate joys and sorrows, will she embrace the outpouring of welcome and support from the people of Cedar Creek...and accept this new chance to open her heart to a more abundant life?
The fourth installment in this award-winning mystery series draws actor-turned-super-sleuth Tennyson Hardwick into his most challenging case, compelling him to face the unthinkable: save his daughter or the woman he loves.
South by Southeast
, a title inspired by the master of suspense, Alfred Hitchcock, finds Tennyson and his family in South Beach, Florida, where he is filming his role in a television detective series. Ten's soon-to-be-adopted daughter, Chela, runs into old friend Maria from her earlier days as a prostitute in Los Angeles. The pair dives into the South Beach club scene, but Maria mysteriously goes missing.
When Maria's body washes ashore, Chela and the authorities fear that her suspicious death is connected to a serial killer preying on young prostitutes. Tennyson believes he knows who the killer is, but the suspect escapes when the actor-detective tries to capture him.
When it's believed the suspected killer may have committed suicide, things return to normal for Ten and his family. But the respite doesn't last long, and Tennyson discovers someone is after him, his girlfriend, and Chela. Realizing it's the killer who's terrorizing him, Ten is presented with a lose-lose dilemma: save his daughter or the woman he loves.
In a pulse-pounding thriller that could be described as Walter Mosley's Easy Rawlins meets
Miami Vice
, Tennyson Hardwick is back big time with his trademark sexiness, sizzle, and James Bond-like sophistication.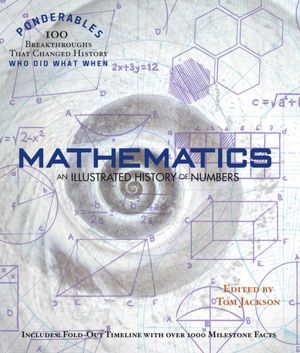 Legend has it that the first magic square, where all lines and diagonals add up to the same figure, was revealed more than 2,000 years ago when a river turtle appeared to have ancient Chinese numerals inscribed on sections of its shell. Patterns are everywhere in nature, and counting, measuring, and calculating changes are as old as civilization itself, as are many of the theorems and laws of math. The Pythagorean Theorem was used to plot out fields for planting crops before the ancient Greek Pythagoras was even born, but the story begins long before that, with tally marks on rock and bone surviving from the Stone Age.
Here is the essential guide to mathematics, an authoritative reference book and timeline that explores the work of history's greatest mathematicians. From the teasing genius of Pierre de Fermat, who said he knew the answers but rarely gave them up, to the fractal pattern discovered by Waclaw Sierpinski now used to plan the route a mailman takes, here are 100 landmark moments in this intensely rigorous discipline, seen through the eyes of the people who lived them.
Glimpse the abstract landscape of infinite numbers and multi-dimensional shapes as you learn about the most famous math men of all. Pythagoras had a love of numbers so strong it led to a violent death. Then there is Fibonacci, whose guide for bookkeepers changed the way we add and Descartes, who took inspiration from a fly to convert numbers into shapes and back again, changing math forever.
Over many centuries, great minds puzzled over the evidence and, step-by-step, edged ever closer to the truth. Behind every one of these breakthrough moments there's a story about a confounding puzzle that became a discovery and changed the way we see the world. Here are one hundred of the most significant and we call these Ponderables. InMathematics: An Illustrated History of Numbers, you'll get a peak into the Imponderables, too, the mysteries yet to be solved that will one day lead great thinkers forward to an even greater understanding of the universe.
Includes a removable fold-out concertina neatly housed in the back of the book. This fold-out provides a 12-pageTimeline History of Mathematics that embeds the story in historical context and shows Who Did What When at a glance. The reverse side features some of the greatest mathematical enigmas and interesting facts about the world of numbers.