This is what we got ...what did you read and enjoy this week? We love comments....thanks!
Here is the
link to a new graphic novel announcement from Sea Lion Books.
Do you like tales of Cold War espionage? Taut psychological thrillers? Science fiction as a metaphor for U.S. foreign policy? How about cute angst-filled teenage vampire toyboys?

Well, too bad. None of those things are in this book.

Instead you'll join a guy in a Viking suit on an absurdly epic quest to figure out the meaning of life. There will be obstacles, of course: rabid gangs of disgruntled grannies, rival cults of pie-enthusiasts, toasters, anti-matter conversion do-hickeys, Shadow Men, bandits, hippies, annoying celestial bodies, the Department of Internationally Sexy Affairs, and probably way too many dick jokes for this book to ever be considered for any serious academic curriculum. You know, the usual. Sent for review.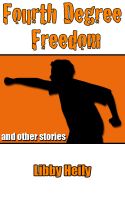 Fourth Degree Freedom explores the best of humanity and the worst. The stories range from hopeful realism to the dystopian side of speculative fiction. Each story twists and turns through darkness and light, settling somewhere in the shadowy area of day to day life.

Sent for review.
Carny Sullivan grew up in the zany world of a traveling carnival. Quaint and peaceful Serenity, Texas, has given her a home, a life, and a child. Logan Brisco is the smoothest, slickest, handsomest man Serenity, Texas has ever seen. But Carny Sullivan knows a con artist when she sees one---and she's seen plenty, starting with her father. As far as Carny Sullivan can tell, she's the only one in town who has his number. Because from his Italian shoes to his movie-actor smile, Logan has the rest of the town snowed. Carny is determined to reveal Brisco's selfish intentions before his promise to the townspeople for a cut in a giant amusement park sucks Serenity dry. Yet, as much as she hates his winning ways, there is a man behind that suave smile, a man who may win her heart against her will.Shadow in Serenity is a modern-day Music Man, penned by a Christy Award-winning, New York Times bestselling author. Sent for review.
Talk about risky business.
The superstore chain PyeMart has its sights set on a Minnesota river town, but two very angry groups want to stop it: the local merchants fearing for their businesses, and the environmentalists predicting ecological disaster. The protests don't seem to be slowing the project down, though, until someone decides to take matters into his own hands.
The first bomb goes off on the top floor of PyeMart's headquarters. The second one explodes at the construction site itself. The blasts are meant to inflict maximum damage—and they do. Who's behind the bombs and how far will they go? It's Virgil Flowers's job to find out . . . before more people get killed. From the library.
She's all about going green. Could he be her white knight—or will he make her see red?
Tree-huggin', animal-lovin' Bridget Pickwick-Buchanan is on a mission. Well, two. First she has to come to terms with being a widow at thirty-three. After all, it's been four years and even her five-year-old niece and nephew think it's time she shed her widow's weeds. Second, she needs to find a buyer for her family's estate—a Biltmore-inspired mansion surrounded by hundreds of acres of unspoiled forestland. With family obligations forcing the sale, Bridget is determined to find an eco-friendly developer to buy the land, someone who won't turn it into single-family homes or a cheesy theme park.
Enter J. C. Dirk, a high-energy developer from Atlanta whose green property developments have earned him national acclaim. When he doesn't return her calls, Bridget decides a personal visit is in order. Unfortunately, J. C. Dirk is neither amused nor interested when she interrupts his meeting—until she mentions her family name. In short order, he finds himself in North Carolina, and Bridget has her white knight—in more ways than one. But there are things Bridget doesn't know about J. C., and it could mean the end of everything she's worked for…and break her heart. Sent for review.
Headhunters introduces us to the charming villain Roger Brown, a man who seems to have it all: he is Norway's most successful headhunter, married to the beautiful gallery owner Diana, owns a magnificent house – and is living larger than he should. Meanwhile, he is playing at the dangerous game of art theft. At a gallery opening, his wife introduces him to the Dutchman Clas Greve. Not only is Greve the perfect candidate for the CEO position of the GPS company Pathfinder that Roger Brown is recruiting for; he is also in possession of "The Calydonian Boar Hunt" by Peter Paul Rubens, one of the most sought-after paintings in modern art history. Roger sees his chance to become financially independent, and starts planning his biggest hit ever. But soon, he runs into trouble – and it's not financial problems that are threatening to knock him over this time…The winding, explosive plot takes us from society's financial and industrial elite to an underworld of contract killers and swindlers, offering Nesbo's variations on the most spectacular murders, car chases and escapes that the genre has to offer on the way.
Blog hop win.